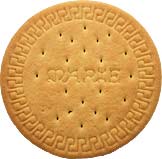 No.. not this kind of Marie biscuit.. it's more of a cookie actually hehehe
Tray full of cats!
Recipe taken from Happy Home Baking: Smiles from the 100 Aker Wood. I must say it was absolutely yummy... and crunchy. Modification that I made was to add in about 1 tsp of vanilla essence.
Here's the cutter that I used.